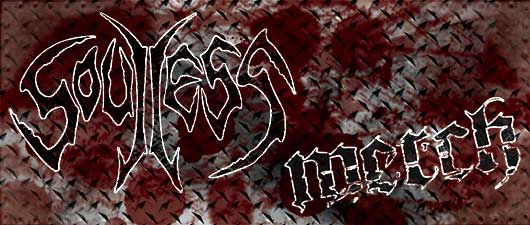 TO ORDER:
E-MAIL US your order info. We'll figure out the shipping and send you a total. Pretty simple. Allow 4-6 weeks for delivery or more, depending on your location.
E-mail: orders@soullessdomain.com
Soulless P.O. Box 347417 Parma, Ohio 44134 USA



CD's

Click thumb for album details

In Death's Grip

CD AUBURN 1022-2 (Auburn - 2013)

10 new blistering tracks of Soulless foulness along with a bonus Destructor cover makes for 11 tracks or rust belt metal mastery! First 200 copies recieve a FREE PATCH.

US $10
(Plus S&H)


Forever Defiant

CD KDM-22

(WorldChaos-2007)

13 tracks of skullcruching heaviness...Japanes ltd editon includes 2 bonus tracks and quality embroiderd patch.

[Reviews] [Listen]



VINYL

Betray the Light 7" ep MEO03 (Metal Enterprise)
This seven inch features demo versions of four tracks from the "Forever Defiant" full length and includes some infernally twisted artwork by Mark Riddick.

US $5

Scorn on the Fourth of July
ME003-HELLSEP006 (Metal Enterprise/Hell's Headbangers)
Split 7" ep w/ Nunslaughter
Live versions of "Bleeding Darkness" And "Downward" recorded July 4th, 2003 on Devil red splatter vinyl w/ insert.

US $5

Nunslaughter/Bloodsick Split 7" ep
05PEP0019 / Hell's Headbangers)
Split 7" ep w/ Nunslaughter
Long out of print EP now available as deluxe picture disc with reworked artwork and insert.


US $5
Shirts - ALL PRICES SLASHED!!!
Buy now or die!
Forever Defiant Album T [FDTS]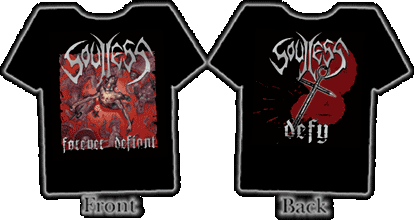 "Forever Defiant" album cover. Ful lcolor front and back.
Contact for sizes
$10

Forever Defiant Long Sleeve [FDLS]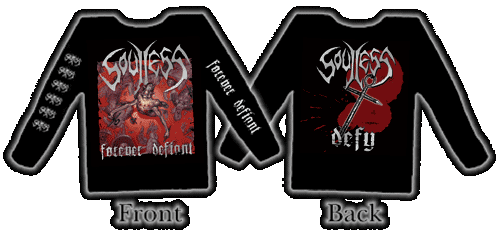 "Forever Defiant" album cover. Ful color front and back with white sleeve imprints.
Contact for sizes
$15




Soulless Beer Brigade T (BBTS)

Zipper Hoodie (ZZHH)


Thrashing Corpse Rager!!!!!
One sided print on an army green T
Contact for sizes
$10

Betray the Light 7' art printed in "discharge" ink


Sizes XL

$20
Legions of the Fall T-Shirt [LFTS]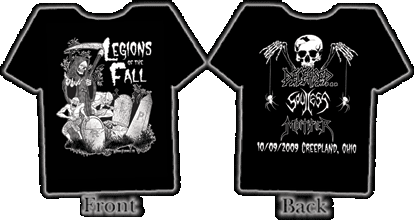 T-shirt commemorating the first "Legions of the Fall" show held October 9th, 2009 in "Creepland" Ohio
featuring metal legends Deceased with Soulless & Mortifier . Single color front and back. LIMITED QUANTITIES!
XL Only
$8

Blooody Logo T [BDTS]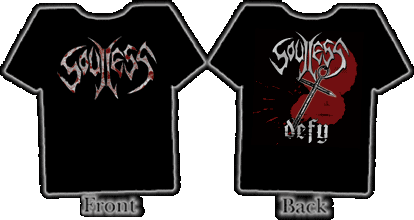 Full color Bloody Soulless logo front, "Defy" blood spatter back.
Contact for Sizes
$10

Blood Spatter Long Sleeve [BDLS]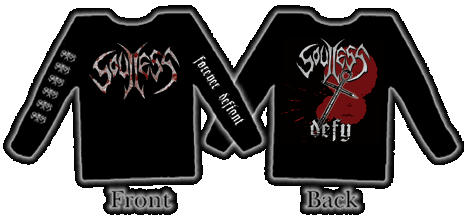 Full color Bloody Soulless logo front, "Defy" blood spatter back with white sleeve imprints.
Contact for sizes
$15

Blood Logo T (BLDTS)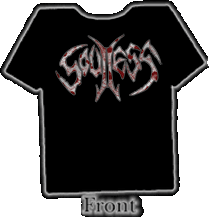 Bloody Soulless Logo on Front
CHECK FOR AVAILABITLIY
$14 US /$19 World

Bloody Logo Hoody [BLDHD]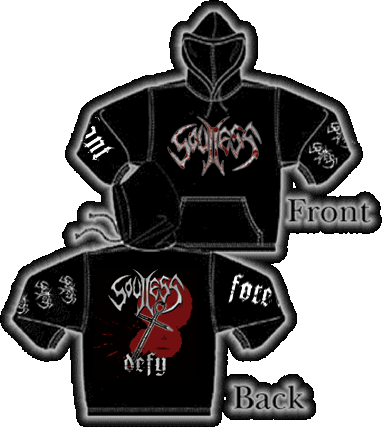 Bloody Soulless log front,, Splatter "Defy" artwork on back, white sleeve imprints.
Sizes L-XL-XXL
$40 US /$50 World

Spaghetti Strap [GTSS]


Baby Dolls [GTBD]

"Soulless-Defiant little bitch" purple metallic print on black shirt
SIZE S M L
$17 US / $20 World

"Soulless-Defiant little bitch" purple metallic print on black shirt
SIZES S M L
$17 US / $20 World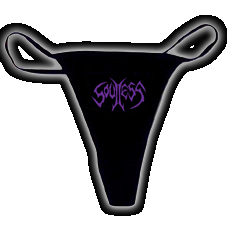 "Soulless-Defiant little bitch" purple metallic print on black thong
SIZE S M L
***OUT OF STOCK***
Embroidered Logo Patch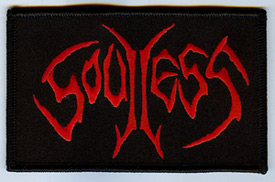 2.5" x 4" High quality embroidered patch with heatseal backing
$5.00 US/$6.00 World

Betray the Light White Logo T-Shirt [BTLTS]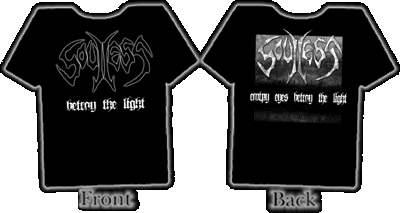 Black and white design features glowing Soulless logo front and art from the Betray the light 7 inch on the back.
CHECK FOR AVAILABILITY!!!
$17 US /$22 World

Betray the Light White logo Long Sleeve T-shirt [BTLLS]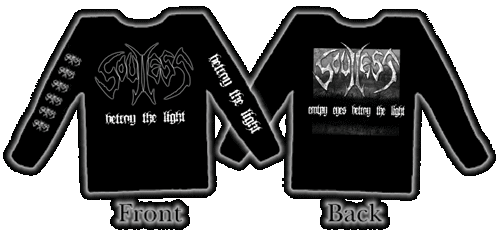 Black and white design features glowing Soulless logo front , art from the Betray the light 7 inch
on the back and dual sleeve prints.
CHECK FOR AVAILABILITY!!!
$22 US /$27 World